Coughing
My pet seems to have a persistent cough. What caused it and what can I do about it?
Coughing is one of the most common syndromes veterinarians all around the world encounter during consultations. Coughing in itself is not a disease, but a symptom of something else in your pet. The onset, type of cough, duration and production will help the vet to get to the bottom of what's going on inside your pet.
What is coughing?
Coughing is an audible, forceful expelling of air from the lungs usually in an attempt to clear the airways. Forceful expulsion of air should follow forceful inhalation for the whole action to qualify as a cough. A cough is actually a protective reflex of the body, which signals the presence of an underlying condition. Coughing is generally classified into two main categories namely a wet/productive cough or a dry/non-productive cough. A wet cough is one in which there is an accompanying fluid or mucous discharge seen with each episode; while a dry cough has no discharge or fluid.
Is my dog ill?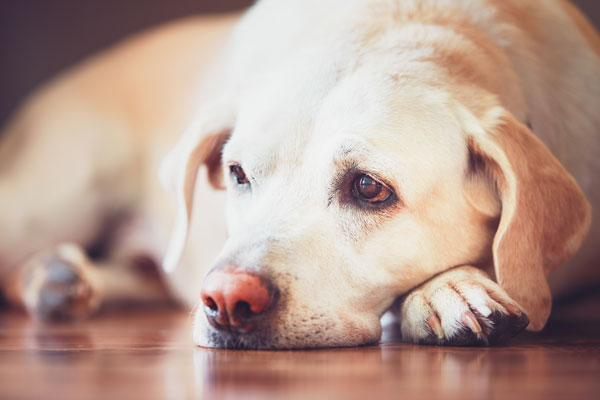 Common signs of illness in dogs
Thanks to the nationwide lockdown, we'll all be spending the next three weeks in the constant company of our furry friends. As the days go by, you may notice some behaviours or signs in your dog that you haven't noticed before and may wonder if these are cause for concern. This article will outline the most common signs of illness that you may notice in your dog.
Is my cat ill?
Common signs of illness in cats
Thanks to the nationwide lockdown, we'll all be spending the next three weeks in the constant company of our furry friends. As the days go by you may start noticing some behaviours or signs in your cat that you haven't noticed before and may wonder if these are cause for concern. This article will outline the most common signs of illness that you may notice in your cat.
My cat is eating like crazy and not picking up weight
Hyperthyroidism in cats
What is hyperthyroidism?
Hyperthyroidism is a condition that arises from an excessive production and secretion of active thyroid hormones by an abnormally functioning thyroid gland. First recognised in the late 1970's, the frequency of diagnosis has escalated dramatically - currently it is the most common endocrine (hormone system) disease in cats and also one of the more frequently diagnosed disorders in the veterinary field. The condition is estimated to affect 1 in 300 cats.
My cat has suddenly gone lame in her hindquarters and seems to be in a lot of pain
Feline Aortic Thromboembolism
What is Feline Aortic Thromboembolism?
Feline Aortic Thromboembolism (ATE) is a condition in cats where a big blood clot settles and blocks the main artery (the aorta) running from the heart to the cat's hind legs. The clot typically settles near the pelvis, where the aorta divides into the two main arteries that extend into the legs.
My pet is vomiting
Is vomiting a sign of an upset tummy?
Vomiting is one of the most common symptoms of disease seen in pets. It can be quite alarming to see your pet vomit up all his or her food or alternatively continuously wretch and only bring slime or bile. So should you rush your dog or cat to the vet immediately when you see them vomit, or is it safe to wait and see? Because there are so many causes of vomiting, we recommend that if you are ever in doubt, it is always better to visit the vet and have it seen to, even if it is just to put your mind at ease and prevent it from progressing to something more serious.
My older German Shepherd Dog seems to be getting weak in its hindquarters
Degenerative Myelopathy
This article outlines a genetic disorder that mainly German Shepherd dogs are prone to. There are other breeds affected by this condition too like Chesapeake Bay Retrievers, Corgis, Boxers, Wirehaired Fox Terriers and Rhodesian Ridgebacks, however, the disease is mostly seen in German Shepherds.
If one breaks down the name of the disease it describes what happens with the disease. Degeneration refers to a breaking down or deterioration of something. That "something" in this case is myelin which is the insulating sheath around neurons in the spinal cord. Neurons are the "electrical wires" of the nervous system and one can compare myelin to the insulating plastic around the wires, almost like one would find with an electrical cord. Whenever a term is followed by "pathy" it refers to a disease or disorder in a certain part of the body. In this case the spinal cord.
My dog is ravenously hungry all the time and eats like a beast but is as thin as a rake.
Exocrine pancreatic insufficiency in dogs
Why is the pancreas important?
The pancreas is a small, light pink, glandular organ that is situated between the stomach and the duodenum (part of the small intestines). It has many important functions, all of which can be classified into two main categories namely endocrine and exocrine.
The endocrine function of the pancreas refers to its hormone-producing cells. Hormones are small chemical messengers that are released into the bloodstream. Two important hormones produced by the pancreas are glucose and glucagon, both of which are important in maintaining blood sugar levels.
When should I be worried about my cat's coughing?
Coughing in cats
A cough can be described as a sudden, forceful expiration of air through the glottis (part of the throat). It is usually accompanied by an audible sound (something that can be heard), which is often preceded by an exaggerated inspiratory effort (a big breath in). Cats, just like humans, may cough occasionally to clear their throat or because they have an irritation but coughing can be a clinical sign for a varying number of serious conditions in cats.
I found a lump on my animal's skin. Is it cancer?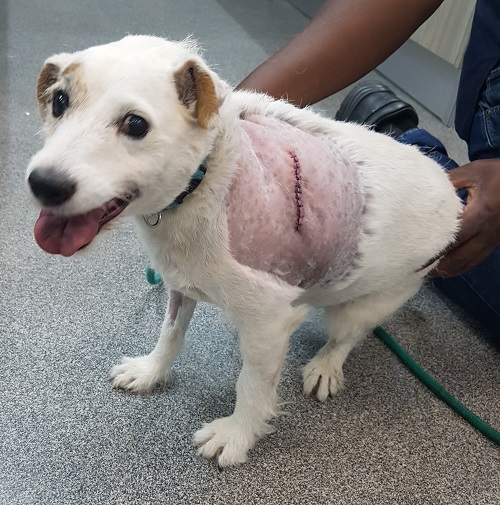 Lumps and Bumps in your Pet
Finding a lump or a bump in your pet which you have never noticed before, can cause serious worry for pet owners. This article will highlight what to watch out for when to take your pet to the vet and the process veterinarians follow when approaching any lump found on a pet.
Firstly, it is always important to remember that you can never tell how serious a mass on your pet is by simply feeling it and judging by its size. Dynamite can often come in small packages and some of the most aggressive skin cancers may present as a simple small raised area on the skin. Generally, lumps on a cat tend to be more dangerous and they are not something to be ignored. All growths have to start small but may grow very rapidly. Lumps come in all shapes and sizes and for that reason, it is always best to get any lump on the skin or underneath the skin checked by the veterinarian as soon as you discover it. This will provide peace of mind to you as an owner if it is simply a dermal cyst or a small wart-like growth, both of which will not cause any major health issues for your pet. Alternatively, if it is something more aggressive and dangerous, it is always better to start treatment as soon as possible. If it is determined to be a bad type of growth (malignant), the sooner it is diagnosed the better the prognosis for both removing it surgically or starting any other form of treatment.